Service and Repair
Unmatched Service
A-1 Scuba is proud to be recognized as one of the top repair facilities in the nation. Our unmatched service and repair department utilizes state-of-the-art testing equipment and the latest in specialty tools to keep your equipment functioning flawlessly. We use ONLY oxygen-compatible cleaning solutions and lubricants in our test facilities.
Our award-winning technicians are certified by ALL of the top manufacturers. Check out our huge list of certifications and awards! Our techs are highly trained in the service and repair of the latest technologies and in a wide variety of older models as well. Don't trust your life support equipment maintenance to anyone else! Click on the photos to find out more about our exceptional service and repair staff.
We are confident our quality and service will meet and exceed all of your expectations. To help insure total satisfaction we invite you to use a FREE pool practice after your gear is finished being serviced. To set up your session, just call ahead and remember to bring in your certification card.
ONE WEEK TURNAROUND SERVICE – GUARANTEED!
Top Reasons to have your equipment serviced at A-1
Flow Bench
We have Colorado's ONLY Full Flowbench Test Station. This assures the best possible adjustment for any regulator which leads to easier breathing and longer dives. We can simulate required airflow at various depths beyond 150 ft. It also allows us to Flow check your regulator on High, Mid and Low tank pressure at the same time.
Heated Ultrasonic Cleaners
The combination of a special solution and Ultra Sonic Waves allow us to remove all corrosion and help extend the life of your regulator. This procedure also removes excess lubrication residue such as silicone grease that can be dangerous when using Enriched Air Nitrox.
Air Integrated Pressure Chamber
This instrument allows us to test your depth gauge, computer or air integrated computer for depth accuracy and other features such as Ascent alarm, Decompression modes and No Fly times.
Our Service Technicians are Certified by all the top Manufacturers
Don't trust your life support equipment maintenance to just anyone! Our technicians can service and repair all of your underwater life support equipment.
Atomic – Aqualung – Apex – Dacor – Dive Rite – Genesis – Mares – Oceanic – Ocean Edge – O.M.S. – Scuba Pro – Sea Quest – Sherwood – TUSA – Tabata – U.S. Divers – Zeagle
Not Your Average Repair Shop!
Our service and repair facility is so well respected in the industry, several major manufacturers have us assist them in product testing, research and development. Some of the great products you can buy now were tested in our facility when they were still prototypes!
Service Guidelines
Before you dive, come in for an equipment inspection and evaluation.
Let us help educate you!
Proper maintenance of your equipment ensures your safety and allows you to relax and enjoy the scuba experience. Plan ahead! We can perform all necessary upkeep in less than a week. Plus, after service is performed, you can try out your equipment in our pool for free! Here's what we strongly recommend (also, refer to the owners manual(s) for your equipment):
Available Services
Complete Service Packages Available (save $$$)
Family Service Savings – save when we service your whole family's gear!
Regulator Testing
Octopus Testing
Alternate Air Source Testing
B.C.D. Testing
Nitrox Service
Computer/Depth Testing
Computer Battery Replacement
Scuba Cylinders
Rush service available: 1-2 day turnaround
Your satisfaction is guaranteed!
Need Your Equipment Serviced And Live Out Of Town?
Or if you don't have time to bring it to us? No problem!
Just send us your equipment, we'll service it and gladly ship it back to you when it's completed. "It's no problem!" We'll service your equipment and have it ready it one week or less. All you need to do is fill out this form and send us your equipment!
State Of The Art Repair Facility
Flowbench Test Station
Servicing Dive Equipment since 1959
Three Expert Factory-Certified Service Technicians
Nationally Recognized And Award Winning Repair Facility
Satisfaction Guaranteed
Fast Turn Around Time – One Week Or Less
Heated Ultrasonic Cleaner
Oxygen Safe Lubricant
Integrated Depth and Computer Test Chamber
Properly working equipment increases your enjoyment, safety, and… bottom time.
In our award winning Service Department we can help assure that your
equipment will provide ALL of this and more…
WE GUARANTEE IT!
---
Do You Know What The Inside Of  Your Reg Looks Like?
The A-1 Safety Inspection Program S.I.P.
You just had all of your equipment serviced – you went on a trip and had the time of your life – you return home and now your equipment is dirty, salty and possibly out of adjustment. Does this sound familiar? Our Safety Inspection Program is just the answer! We will completely rinse and clean ALL of your diving equipment, flush the bladder and clean the valves of your BC, as well as Flowbench Test and adjust your regulator. All you need to do is drop off your entire bag of equipment, within six months of the annual service, and we'll do the rest!!! It also includes a FREE pool workout!
Extends the life of your diving equipment
Prevents damage caused by moisture and corrosion while in storage
Ensures peak performance on your next diving vacation
Your regulator will be FLOWBENCH Tested and adjusted ensuring peak performance
You can immediately try it out in our indoor pool for FREE!
What is inside my dive equipment? A Lot!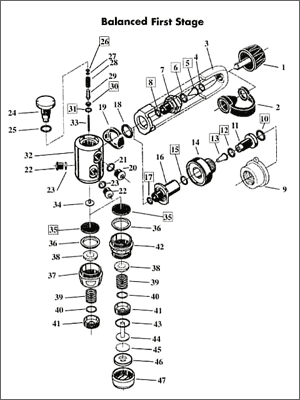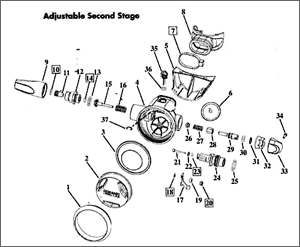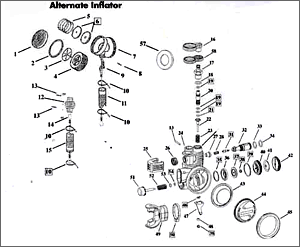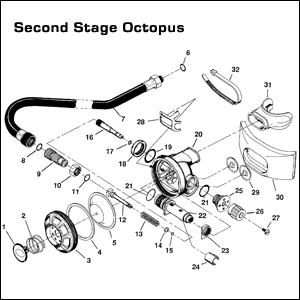 These images are for visual reference only and are not intended to be used as a teaching or repair guide. They generally represent various stages and components typically used in scuba diving.