HSA Scuba Instructor Course
---
HSA/A-1 Scuba Instructor Qualification Course
Thank you for your interest in our Handicapped Scuba Association Instructor Qualification Course. This three-day program is filled with fun, challenges and loaded with information.
Please review the following information.
Day 1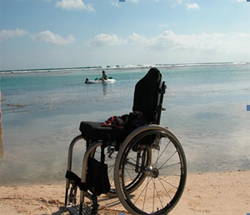 You'll start by meeting your fellow candidates, turn in the required forms (see below) and complete some of the other necessary paperwork (tons of fun). This will follow with some in-depth review of the HSA course standards and move into the actual multi-level certification process. From there, you'll head to the pool to begin a series of role-playing exercises in teams as paraplegics and quadriplegics. You'll have a chance to act as a dive buddy and as a disabled diver. You'll love it!
Day 2
We'll continue in the classroom and dig further into the Physical Performance Standards and certification procedures of the HSA course. After that we'll head back to the pool to resume skill training by introducing you to the techniques and tactile communication used when teaching someone who is blind. You're guaranteed to discover the meaning of trust, faith, belief, confidence, expectation, reliance and dependence.
Day 3
Here's your chance to put many of the techniques you learned in the pool to use in an Open Water environment at the Downtown Aquarium. Once again, you'll be working in buddy teams and performing several of the skill learned in the swimming pool. As in the pool, you'll be playing the role of a disabled diver and as a dive buddy.
More about the HSA Scuba Instructor Program

Course Prerequisites
Performance Requirements
Attend all classroom, confined and open water segments of the course
Participate in all role-playing segments in the confined and open water
Complete and pass the final exam (Note: this is an open-book exam and conducted as a group)
Instructor Candidate Materials
The HSA Instructor Manual, Confined Water and Open Water Cue Cards are included with the course
You have the option of purchasing other related materials directly with HSA
Registration
To enroll in the course all you need to complete an IQC application and pay for the course.
Timeframe
We begin Day 1 and 2 at 8am and should be finished by 6pm. This of course depends on the size of the group and the amount of participation of the various group members. Day 3 begins at A-1 at 8am. Then we'll head to the Downtown Aquarium at 10:30am, for the Open Water training dives and should finish by 6pm.
Equipment
Tanks and weights will be provided for the pool. You will need to provide your own: Mask, Snorkel, Fins, BCD, Regulator, Alternate Air Source (Octopus) and gauges. Tanks and weights will be provided. All open water equipment will be provided by the aquarium.
Make-up Sessions
Make-up sessions will be arranged on a per person basis. The can be difficult to set up and at $85 per hour can be very costly. Please make every attempt to attend all required sessions.
Dress
Day to day attire should be that of a professional instructor. Clothing displaying lewd pictures and profanity are unacceptable.
Attitude
This is a fun class but like all classes it can be challenging at times. I ask that you have a blast and conduct yourself in a professional manner – even if you get frustrated.
Punctuality
Because there is a tremendous amount of material to cover in the course, you will need to come to class prepared and on time ———– please.
HSA IQC Fee
$385.00 includes: all classroom instruction, confined water training, the HSA Instructor Manual, Confined and Open Water Cue Cards, HSA Registration Fee, pool tanks and weights.
There is a separate $125 fee for the Downtown Aquarium open water training dive. This includes the use of all equipment. Note: Does not include the parking fee.
Required Forms
And Finally
The key to your success is to be sure and come prepared, willing to learn new skills and information and have a desire to have a great time.
If you have any questions please don't hesitate to give me a call. Here is your chance to challenge yourself, sharpen your personal skills and introduce a special group of people to the wonderful sport of scuba diving. It is sure to open your eyes and maybe even your heart.
Sincerely,
Scott Taylor
HSA Course Director #11
Sign Up Now
Or contact us at 303-789-2450